FSIA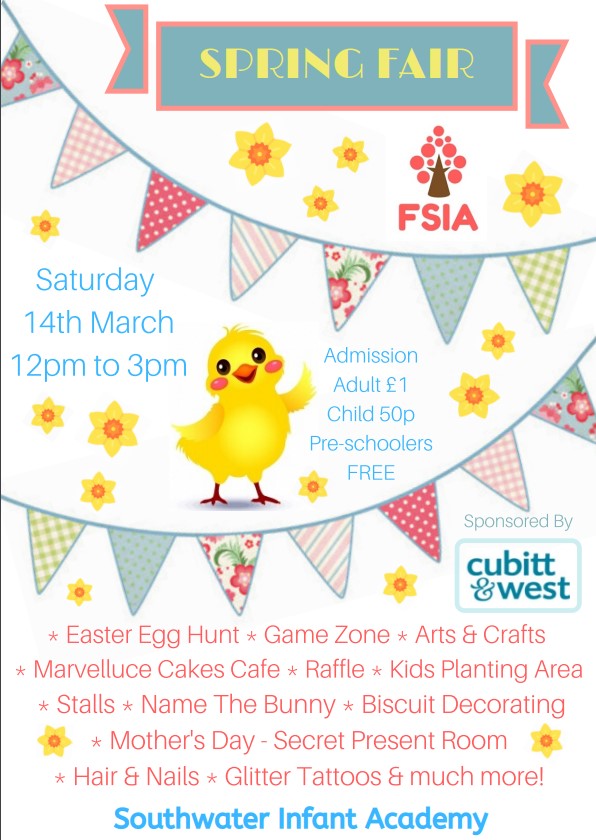 Who are the FSIA?
We are a team of parents, relatives and carers of children attending The Southwater Infant Academy who have come together to lend additional support to its staff and pupils across a range of academic and social activities.
What is the role of the FSIA?
We operate as a charitable trust, assisting the Infant Academy in many areas from reading groups and costume-making to helping out with trips and performances, as well as organising fundraising activities and social events. We are also on hand to support the PTFA with larger fundraising initiatives.
Our aim is to develop close links between the infant academy and its community of parents and carers by providing opportunities for them to be more involved in their children's education. We have also launched a Class Representative initiative and a baking group to further develop these links.
Funds Raised
At this years Christmas Fair we rasied nearly £4000! All proceeds from fundraising activities are reinvested into the academy. Through fundraising we have purchased Christmas presents for our children each year, playground equipment, some interesting alien recycling bins, musical instruments for the whole school and role play equipment for our reception children.
Join us
We are always looking for new volunteers! If you would like to get involved we would love to hear from you, why not pop along to one of our coffee mornings, email us at
fsia@southwaterinfants.co.uk
or visit our facebook page
here.
Upcoming Events
Please come along to our Easter Fair on Saturday 14 March, 12-3pm. It promises to be a fantastic afternoon with craft areas, shopping stalls and our popular chocolate tombola!